We have made the choice of artisanal ripening in order to offer our customers authentic cheeses.
Our know-how
as an artisan refiner.
Artisanal ripening
The cheeses are received « in white », this means a few days after their fabrication and put on a board of spruce. Then begins a long work of patience, where the cheeses are morged, salted, rubbed and turned over by hand. The artisan refiner constantly controls the quality of the crust, texture, dough, as well as the taste. He adapts if necessary the number of rubbings or the number of turns. After this, the cheese is ready to be send to customers.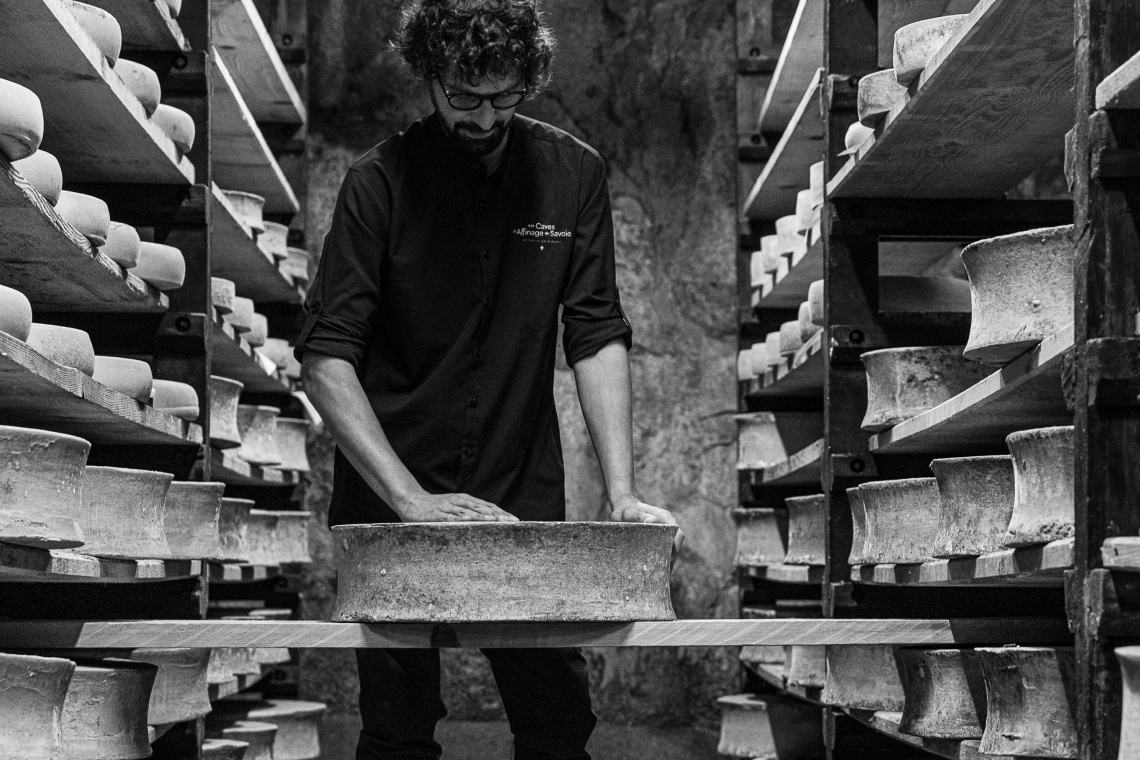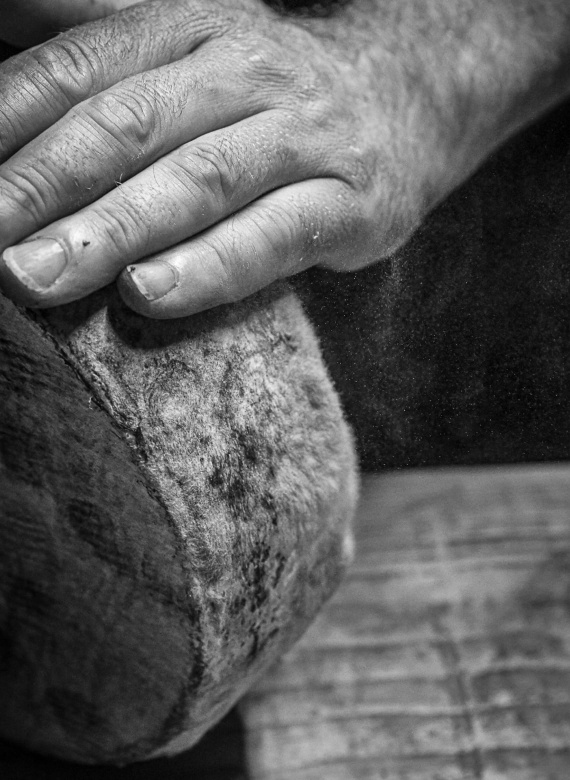 An unusual place dug
under the mountains
The history of the tunnels
In September 2011, in the heart of the AOP Beaufort zone, in Rognaix, Eric Mainbourg discovered a former powder magazine left abandoned. Dug 63 metres inside a cliff, with optimal conditions to refine cheeses. From then on, the first ripening tests were realised. High quality, the cheeses became victims of their own success, there is not enough place, other tunnels were necessary to refine new cheeses. In August 2014, Eric took over the former tunnels of refining of Denis Provent in Chambéry. In 2017, the company, 100% independent, counts 8 employees.
Dug under the mountains
Our three cellars have common characteristics: high natural hygrometry (95 to 98%) and natural temperature between 9°C and 13°C. Ideal to refine our cheeses.
The cellar of Rognaix
This cellar is an old tunnel dug 65 metres under the mountains, which served – after the war – to store ammunition, dynamites and materials for the construction of Savoyard hydroelectric dams. It was left abandoned for many years.
The cellar of Jacob Bellecombette
This cellar is an old cool box built underground, the brewers of Chambéry stored here, during the winter, the ice of the Massif des Bauges. They used this ice the rest of the year as means of refrigeration.
The cellar of Chambéry
We use the former bomb shelters of the city of Chambéry, which served during the second world war. These are long tunnels entirely underground located near the prefecture.